The new IPO restaurant, events not to miss, fashion galore!
I'm backkkkkk! Missed you guys so!
In October I was invited to the opening of IPO restaurant and the expanded W Living Room Bar in the W Hotel (City Center) at 172 W Adams St in Chicago. Walking up to the hotel I saw a DJ outside on the roof spinning with a go-go dancer next to her! The energy was eclectic and heart racing as we stepped into the lively crowd inside the W.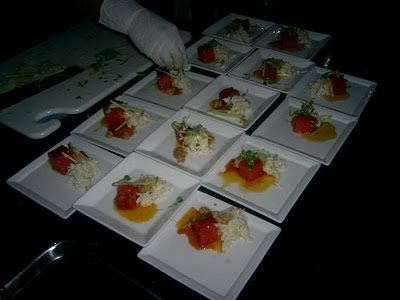 On the inside energy was bustling as waiters served drinks and yummy food like special meat lollipops, a watermelon, walnut and special sauce mix (above) and many other delicious food by Executive Chef Trevor Hoyte. Looking at the IPO menu, I saw small-plate " urban" menu that combines American, Indian, Asian, and Latin flavors. The W's Living Room bar, will have the always popular dishes like seared scallops with Mexican chorizo and Puerto Rican sofrito.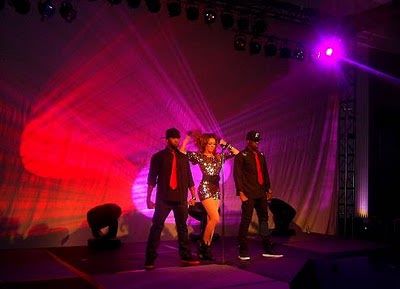 After mingling on the ground level, it was time to explore the second level where there were separate rooms dedicated to signature drinks and food pairings. In the main room the energy was vibrant while waiting on the surprise performance by artist CeCe Segurra (above). Though I have never heard of CeCe she has gained a new fan! She gave a rousing and exciting performance!
Go and check out IPO restaurant and the expanded W Living Room Bar in the W Hotel (City Center).  It caters to all walks of life!
Last Thursday I was invited to the Block 37 "Fashion at the Block" event with Austin Scarlett and Santino Rice from Project Runway.  There was an amazing runway event showcasing amazing seasonal looks from Block 37 Shops like Zara and Akira while local designer Michelle Tan showed off some hot new fashions. One lucky attendee won $1,000!
>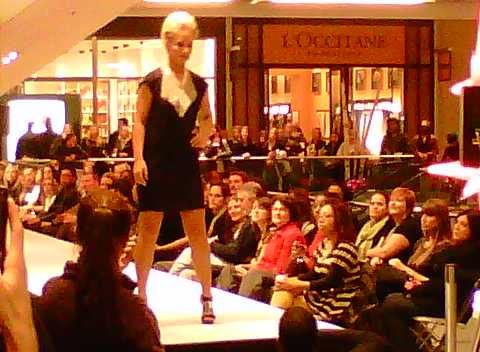 Later that evening I attended the launch of the revamped website  of Deliciously Vintage Boutique and to see the Winter Lookbook with their glam squad of: Tia Dantzler, Rukey Styles and Christopher Adams of Impakt Studios.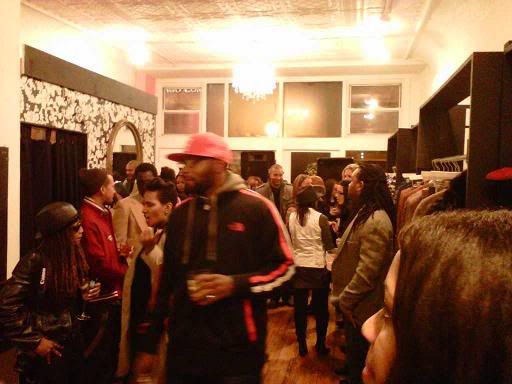 1747 South Halsted Street
Chicago, IL 60608
(312) 733-0407 Open Tue-Sat 12pm-7pm
Gossip:
A little birdie told me that a popular Chicago newscaster came into Lori's Shoes last week and brought the uber cute and tough skull booties! (I won't reveal who…but take a guess!)… I also heard that our Quaterback and his reality star girlfriend was seen at the Guess store on Michigan Ave where the reality star demanded free items.  The staff didn't recognize her and I'm hearing the Quarterback was embarrassed that she even asked for free swag…..
Congrats:
A big congrats to Fashion House Chicago on their launch of their website and ad in Chicago Social Magazine as well as their feature in December's CS Mag!
Fashion House Chicago is a high-end and full service life-style boutique with a stylish loft setting to offer its clients a wide range of services. They include, but are not limited to, Styling, Consignments Services, Closet Cleaning & Organization and High-End Ready-to-Wear & Couture Garments for either rent or sale.
I know the owner  Melissa Taylor and she knows her fabrics and knows her fashion.  There is a wide variety of options to choose from and the relaxing and glam atmosphere is the best! Go to   for more info.
FashionHouse Chicago
411 s. Sangamon # 4e
Chicago il 60607
Phone: 312-929-4920
Hours of operation: Mon-Sun 11-7 By Appointment Only
http://www.fashionhousechicago.com
Upcoming
On Black Friday (Friday, November 26th), Cerato Boutique in Lakeview's Southport Corridor is open EARLY! From 8 am – 12 noon, shoppers can get 20% off select items, while enjoying coffee, muffins and pastries courtesy of The Safari Cup (3404 N Southport Ave). Come early and enjoy the savings on some of the city's best local designers!
Behind the RED Curtains : Monologues on HIV
By the Red Pump Project
December 3, 2010 6pm-7pm (Networking Reception) | 7pm-8:30pm (Program)
Room 43 (1041 E. 43rd St.) Chicago, IL 60653
"Behind the RED Curtains" is open to the public. (A donation of $10 is suggested.)
RSVP: http://redcurtains.eventbrite.com/
Joe's Bar hosts the Kris Kringle Kandy Kane Ball, which collects toys for Chicago's children and benefiting Catholic Charities.
December 11th 9pm – 12am (doors open at 8pm)
Joe's Bar 940 West Weed Street Chicago, IL  60622
INFO:
Tickets are $40 in advance or $50 after December 1st and includes passed appetizers, premium open bar from 9pm-midnight and music by DJ JEM.
Happy Thanksgiving all!