Chicago Bears make appearances, DreX back on the air, Giuliana and Bill news + more
How about those Chicago Bears? I think we have a really great season ahead of us!
Linebacker Lance Briggs (above) made an appearance at Sprinkles Cupcake in the Gold Coast recently to show off his cupcake for his charity Briggs4kidz.  The line outside was crazy with fans waiting to meet and support Lance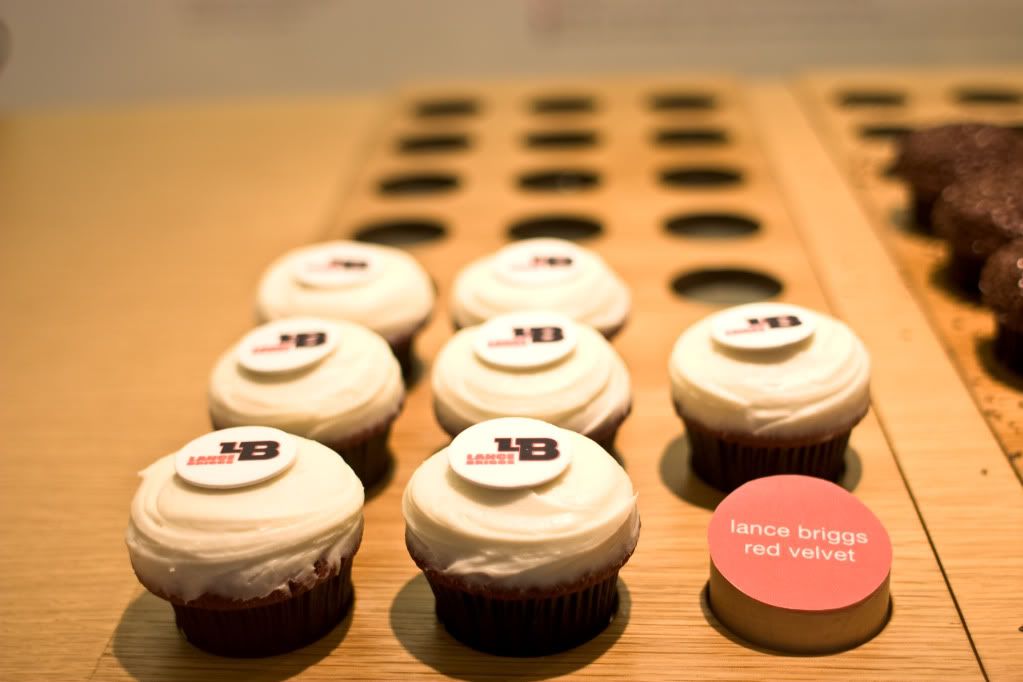 Running back Matt Forte married Danielle Daniels this summer.
Maybe another marriage for the team? Quarterback Jay Cutler and Kristin Cavallari seem to be a couple again after they split this summer.
In sad news, Brian Urlacher's mother passed away at the age of 51.
In other Chicago celeb news Giuliana and Bill Rancic are opening a restaurant here in Chicago based of Italian cuisine.  They also will be lightening the Christmas tree at Macy's on November 5th at 12 pm on the 7th floor, Walnut Room..
Kanye West debuted his womenswear line, DW at Paris Fashion Week to some critics disappointment.  Personally I love it!
Radio personality DreX who was suddenly let go from Kiss-FM has found a new gig in North Carolina.  I only wish we could listen online.

Jennifer Hudson opened  The Weight Watchers Jennifer Hudson Center here in Chicago on 1350 E. 47th St., Suite 135. This is the first time that Weight Watchers has put one of its brand ambassadors' names on a center and Weight Watchers will donate a portion of the Center's proceeds to the Julian D. King Gift Foundation.
NBC has decided to cancel the series 'The Playboy Club' after only three episodes.  A huge mistake in my opinion , it was mystery, Hef and glamour all into one.  They will continue to film and hope another network will pick it up.
Chicago still wins because we will be home to a new Playboy lounge and club in 2012.  Where can I pick-up my tail?
Jill Kargman (above) known for her bestselling books, "Momzillas" and "The Ex-Mrs. Hedgefund"  was in town to sign and read: "Pirates & Princesses" a lighthearted children's novel co-authored by Jill's cute daughter, Sadie!
10% of the proceeds was donated by Jill and Sadie to support the Neonatal Intensive Care Unit at Rush University Medical Center.
Events
Oct 13 4:30pm – 6pm
Taylor Swift Wonderstruck Viewing Party
Watch Taylor Swift live from Herald Square in New York City as she introduces her fragrance Wonderstruck at our Macy's Viewing Party. Receive an autographed photo of Taylor with any $113 purchase of Wonderstruck. Enjoy refreshments, makeovers by Elizabeth Arden cosmetics, feather hair applications, polish changes and more!
Macy's on State Street, 1st Floor
October 18 – 7pm
FASHION FOCUS CHICAGO: THE DESIGNERS OF THE CHICAGO FASHION INCUBATOR PRESENTED BY MACY'S
Stay ahead of the trends with a preview of the spring 2011 collections from the names-you-need-to-know at the Chicago Fashion Incubator at Macy's on State Street.
In partnership with CS Magazine, VIP Tickets are $80 per person which includes an exclusive pre-party and VIP seating for the show. General Admission tickets are $35. All proceeds benefit the Chicago Fashion Incubator, a 501(c) (3) organization. To purchase tickets, please visit http://www.chicagofashionincubator.tix.com
October 18 – 21
Block  37 presents:  Fashion Pops @the Block
Located on the 3rd floor, Block 37 will featuring five "pop-up-shop" boutiques including Cityblue Apparel & Denim, Borris J. Powell Designs, Frill Accessories, Spare Parts and International Academy of Design and Technology (IADT)! Each pop-up will feature fall merchandise available for purchase, plus give shoppers an opportunity to check out looks from a variety of local boutiques not located directly downtown. All shoppers will enjoy sweet treats from the new Magnolia Bakery.  In addition, all of the pop-ups and select Block 37 shops will be offering 10% off throughout the week.
All photos by James Palazzolo.  Pictures cannot be used without the written consent.