This post is all about fashion, baby!  Get your credit cards and money ready because you'll hear more sounds of  beautiful heels clickin' and see more high fashion struttin' on Chicago's street pavements with the Christian Louboutin store opening here on Oak St in the old Esquire building! Ooh la la!
On Saturday I was invited to Benchmark for a special event called Buzzed on Fashion, a fashion forward champagne brunch.  Boutiques- Handle With Care, cityblue, and Sara Jane all teamed up to showcase the latest summer fashions worn by Chicago's own Factor Models.  The weather was beautiful and the champagne was a-pourin' as I saw looks that sparked my interest and made my wallet burn.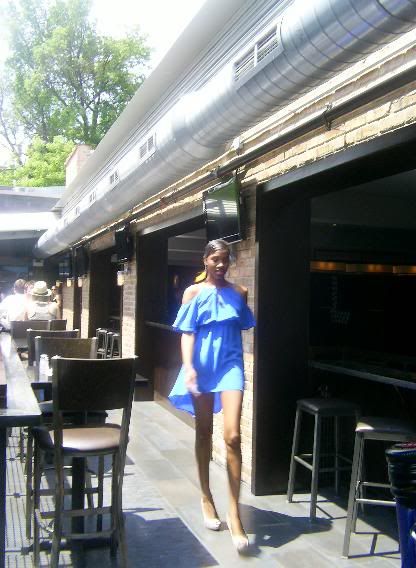 Sara jane look
Sylk Silk Dress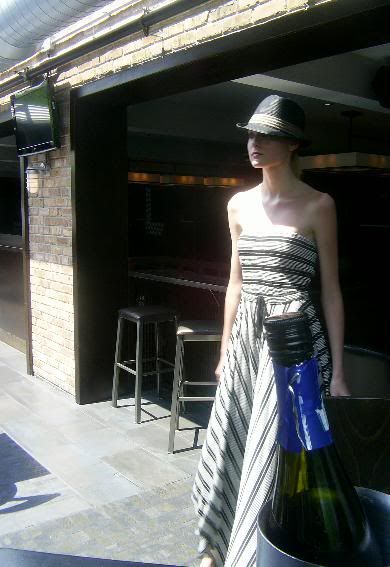 Sara Jane look
Boundry Tube Maxi
Peter Grimm Fedora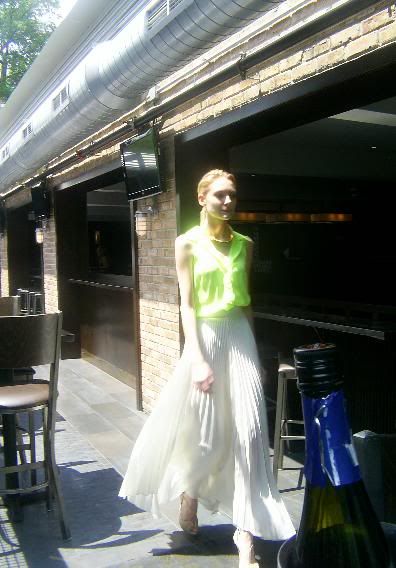 Handle with Care look
Hunter Dixon Pleated Skirt
Voxx Cami
Neon is the trend to try this summer, if you don't want to do full color blocking an option like this shirt with a neutral skirt works for all.
City Blue look
Bed Stu Pennyworth
Citizens of Humanity, Sid in Rubble
Ray Ban large aviator
Scott James, Ellsworth
Scott James, Bart
Loved loved loved Matt's jacket!!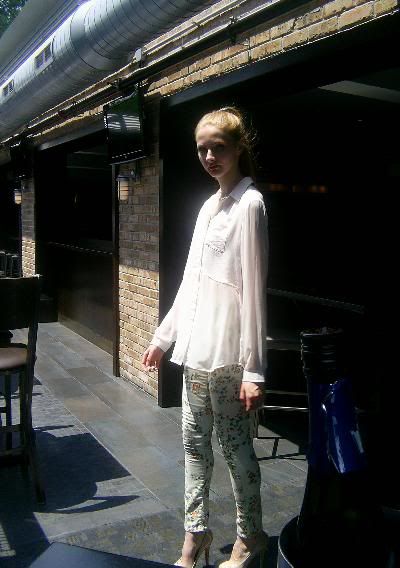 City blue look
Citizens, Mandy, Petite Rose
Free People, Cupra Button Down
Printed jeans are on trend for this summer and with this simple white blouse it was a perfect look and let the focus go straight to the jeans
 City Blue look
Ray Ban, Cats 5000
Hudson, Phantom Titanium
Earnest Sewn button up shirt
Beach, Idiom, Army Green
Bed Stu, Pennyworth
Matt was a hit with the ladies…great eye candy
(Side note- it would have been so nice if I had moved my champagne bottle out the way right?  Sippy sippy and clicky clicky don't mix)
For more info
City Blue
Handle with Care
Sara Jane
It time to celebrate Memorial Day and why not with EXPRESS?  On Friday morning, EXPRESS gets the party started with an EXPRESS ice cream truck handing out cool treats along Michigan Avenue from 10 am to 5pm.
At the fashion show starting at 5:30 p.m. at the "Bean" in Millennium Park you can snap photos with friends at the Instaprint Photo Booth and meet special guest Lisa D'Amato, winner of America's Next Top Model All Stars.  Lisa will be on hand to meet with fans and hand out 125 VIP passes to the exclusive EXPRESS Rock the Sidewalk after party at local hotspot Enclave the next night.
Rock the Sidewalk Fashion show
Friday, May 25, 2012
The Bean at Millennium Park
201 E. Randolph Street, Chicago, IL
5:30PM
Saturday, May 26, 2012
Exclusive EXPRESS after party featuring Travie McCoy from Gym Class Heroes
Enclave Nightclub (must be 21+ to attend)
220 W. Chicago Avenue, Chicago, IL
10:00PM
Men's Style Event at Macy's on State Street with DETAILS Magazine
May 31st – 5:30PM – Macy's on State Street, 2nd Floor, Men's Department
Macy's invites the men of Chicago to come and enjoy an evening with DETAILS Magazine! Get help finding new eye wear from  Sunglass Hut Specialist and satisfy your taste buds with light refreshments and mocktails. Enjoy the live DJs and feel free to participate in the Men's Spa Station provided by local Chicago salons. Keep a memory of the night with either a picture from the photo booth or a customized t-shirt.
I saved the best for last!  Get your tickets for the most fashionable Chicago event for the.  On June 12th at Harpo Studio, Anna Wintour (Vogue), models Iman and Chanel Iman will host Runway to Win.  It's a pop up shop where designers created Obama themed items where proceeds will go to his campaign fund.
For $150 you will have a reception with Anna Wintour, models and fashion designers. $1000 a photo reception and $2500 dinner and a photo reception.  Go here to grab your tickets!
Category: Fashion Scene, Featured